This should reduce your work a quarter and make your workday shorter!
Shall I repeat the Golden Rule? You can open the Smart Bar by hitting CTRL + SPACE?
Ok ok, let's get started!
1. Adjust Angle.
Select the anchor shape first, the shape that has the right angle, then all the other ones that should follow it, then hit A + A to Adjust Angles.

You can use the Smart Bar to find it as well.
⤷ Now you can easily adjust shapes' angles. You don't have to spend long fixing each angle anymore!
2. Align Central.
This feature has saved me so much time and will save yours too. Here's how:
Select your shapes.

Hit A + Z to Align Central.

You can also find Align Central in the Smart Bar.

Decrease or increase the radius as you wish.
⤷ Aligning in a central form has never been easier!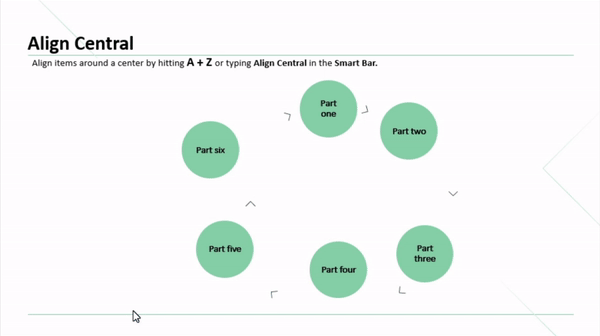 3. Edit Font Families.
Search for Edit Font Families in the Smart Bar.

Select the fonts you would like to change, then choose the new font family that will be replacing them. Easy.
⤷ You don't have to miss family time anymore; you can edit your deck's font types in bulk!
4. Email Slides.
Select the slides you are interested in, then search for Email Slides in the Smart Bar or the auxi ribbon.

You can also start this command by hitting [ on your keyboard.

After that, choose between PDF and PPT format to get your slides ready to send.
⤷ This will be extremely helpful when you want to share specific slides only from your presentation.
5. The Checker.
Find the Checker using the Smart Bar.

It checks for double words, multiple spaces, comments, out of scope elements etc., then allows you to delete them all in one go or one by one if you prefer.
⤷ Voila! Your deck's now ready to be sent to someone important, auxi's add-in checked it for you with some simple clicks!