I suppose you're expecting our weekly Tips, so here we are!
You know the drill by now, Smart Bar = CTRL + Space. The Golden Rule
Let's get started right away!
1. Add Key Takeaways.
Select the important items in your slide and apply one of the following commands through these Keyboard Shortcuts:

CTRL + 4 for Add Right Key Takeaway

CTRL + 5 for Add Bottom Key Takeaway

CTRL + 6 for Add Top Key Takeaway

CTRL + 7 for Add Left Key Takeaway

Or you can use the Smart Bar instead.
⤷ This will add a message box on the side you choose, while making sure everything else is edited for the new element to fit well.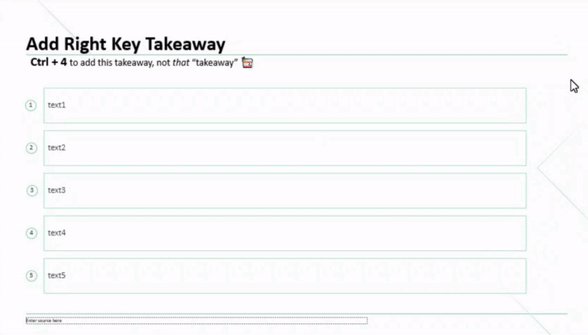 2. Backward and Forward.
Select your important (or not important) item and apply one of the following commands using the Smart Bar.

Bring to Front for bringing an object to the front of the stack.

Send to Back for sending an object to the far end behind the stack.

Bring Forward for bringing an object one step to the front.

Send Backward for sending an object one step to the back.
⤷ Now your most important shapes are at the top, exactly where they belong.
3. Save and Insert Snippets.
Select the part you want, type Save Selection as Snippet into the Smart Bar, and give your snippet a cute name.

Retrieve your saved snippet onto any other slide with the Insert Snippet command.
⤷ You can now peacefully sleep at night knowing that that small part of the slide you worked so hard on is safe and sound, waiting for you to use it again!
4. Translate.
Hit L on your keyboard or type Translate into the Smart Bar.

Choose more than 50 languages to translate from and to.

This feature supports all types of charts, frameworks, and even third-party add-in charts.
⤷ You can now translate your entire presentation in one click without having to worry about the direction of your slides (e.g., if you translate into عربي).
5. Flip Slide Content.
Select the Flip Slide Content command through the Smart Bar, then click on Flip.
⤷ Your slide now has the correct direction without spending forever trying to fix it!